Online Safety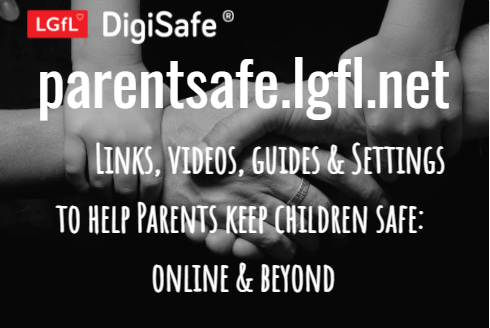 ParentSafe – new dedicated portal to help parents keep children safe online
DigiSafe have launched ParentSafe, a new one-stop portal offering parents support and advice on safe settings, parental controls and monitoring, apps and games, talking to children about life online, screentime and key topics from bullying to accessing pornography, extremism and gangs, fake news and more.
Visit parentsafe.lgfl.net to find out more and share with parents / carers to reinforce those vital safeguarding messages.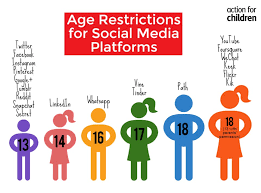 You don't need to be a technical expert to protect your child on the internet. Below are some very simple steps to get you started. Further information can also be found here.
What should I do if I'm worried about my child's safety online?
Talk to your child about the websites that they use. By understanding and involving yourself in their internet use, you're helping to keep them safe
Be positive about the internet and remember that it is a fantastic learning and communication tool
Try not to overreact to minor issues. If your child worries that you may take away their internet access, they could become secretive and hide problems from you
Keep PCs, laptops and games consoles out of bedrooms wherever possible. Having the laptop in a family room makes it easier for you to monitor your child's internet use, whilst still giving them privacy
Set clear ground rules and expectations for your child's online behaviour. If they understand what is and isn't acceptable, it may help them to navigate any problems in the future
Safe use of technology booklet
Information and advice for parents and carers around the safe use of technology is available to download:
Where can I find more online safety information?
Access to new tech over the winter period can provide new opportunities for children and young people but also present risks.
Our guide for parents looks at how they can support their child to be safer online this season by focusing on 3 key areas: viewing, sharing, chatting and friending.
https://www.thinkuknow.co.uk/parents/articles/parents-guide-being-social-online/
https://www.thinkuknow.co.uk/parents/Support-tools/home-activity-worksheets/
Tablets, mobile devices and games consoles have become necessitates to many students recently. In days gone by, parents' technology worries centred around having sufficient batteries to power their children's toys and gadgets. Nowadays it is a far more complicated picture with tablets, mobile devices and games consoles providing users with access to the internet – and the range of challenges that can bring.
To help your preparations, we have come up with five festive tips for parents and carers when giving technology gifts…
Try the device yourself
The easiest way to get to know the safety settings, reporting tools and other features available on the device you have just bought is by having a play on it yourself.
Before wrapping up the gift, why not charge it up and have a go, navigating the tools and resources that are available on it. This also means that first thing on Christmas morning you know you are handing over a fully charged and working device.
Consider parental controls
Take the time to install the parental controls and safety settings that you want onto the device. You will know how it works and won't have to worry about finding time to install parental controls once your child has access to the device.
If you have not yet bought the device it is a good idea to look at the parental controls that are available, speak to the team at the shop you buy it from, ask other parents about their experiences, and read reviews and instructions online.
It is also important to look at the parental controls you have set up on your home internet. This will help reduce the chances of children stumbling across something inappropriate whilst browsing the internet. However, it is also important to remember that no filter is ever 100 per cent effective on its own and any controls should only be used if they work for you and your family.
Make a family agreement
This is a great way to think about how your family uses the internet, and to help ensure that everybody understands the importance of staying safe and positive online.
A family agreement is a chance for you to discuss how your family uses the internet. It can include how often you use technology, if it is allowed to be used in communal spaces like at the kitchen table, and if permission needs to be gained before downloading any new apps.
If you already have a family agreement, it is a good idea to keep updating this as your family's use of online services change, or whenever you get a new device.
Talk to your child
One of the most important things you can do before handing over a piece of technology is talk.
Having a conversation shows your child that you are engaged in their online lives and that you are available to help them should they face difficulties whilst using technology or spending time online.
Asking your child what they will use the device for, and what their favourite thing to do online is, are among our suggested conversation starters. Identifying what is okay and not okay to share online and knowing how to report online concerns are also important topics to discuss.
Set some boundaries
Our fifth piece of advice is to set some ground rules and ensure your children understand them.
This can include agreeing screen time or limiting the number of games played each day – which should also help to avoid one or two disagreements later.
It is advisable that phones, tablets and games consoles remain out of the bedroom to avoid night-time interruptions and long periods of gaming. If you are concerned about your child's usage and screen time, you can ask them to allow you access to the phone or device. You can also check out our website's need help section for further help or guidance.