National Apprenticeship Week 2021
Get Involved with National Apprenticeship Week 2021!
Monday 8th to Sunday 14th February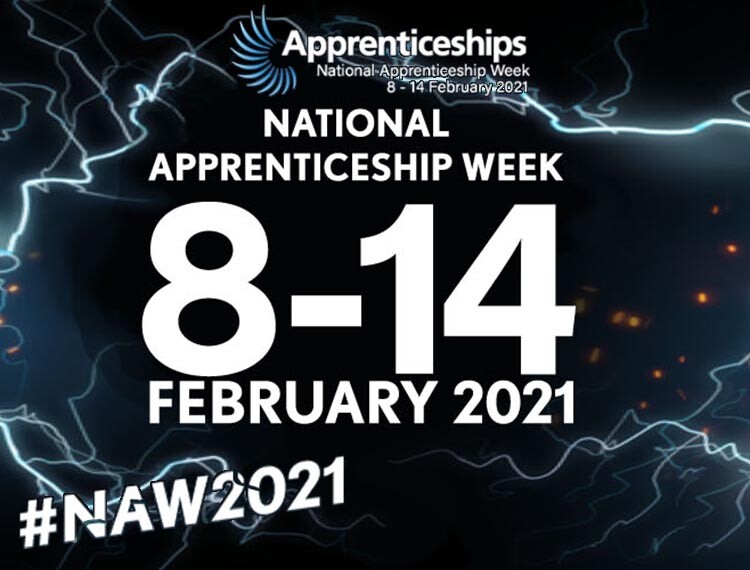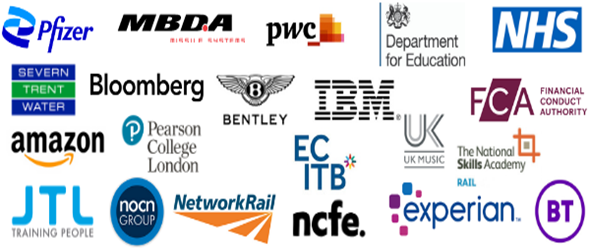 National Apprenticeship Week 2021 is being held from 8 - 14 February and focuses on the theme of Build the Future: Train, Retain and Achieve. The week is designed to celebrate the apprenticeship community, promote the benefits of apprenticeships, and showcase the resilience of apprentices and employers during the pandemic.
As a result of the pandemic and many individuals relying on technology and virtual meetings more than ever, National Apprenticeship Week 2021 will be different, but just as exciting. NAW2021 will celebrate the motivating stories of how apprentices have helped business adapt and build during a difficult year.
Insider information from the employers themselves, hints and tips to help with the application and interview processes
Live Q&A - Get your questions in front of the experts
A certificate of attendance - WOW employers
The programme for the week involves a range of tasks our students can get involved in either independently or with their parents / carers: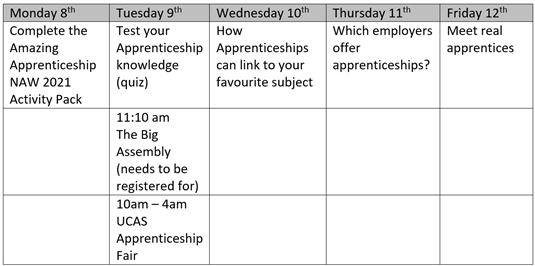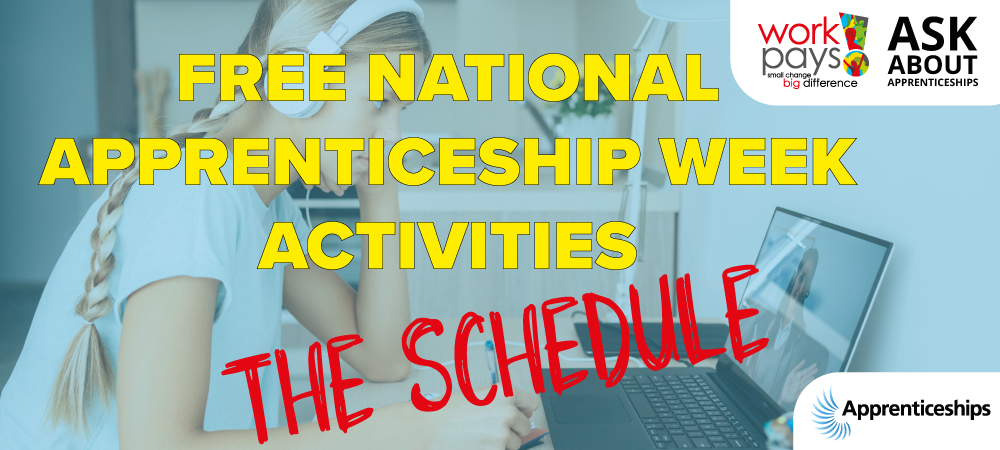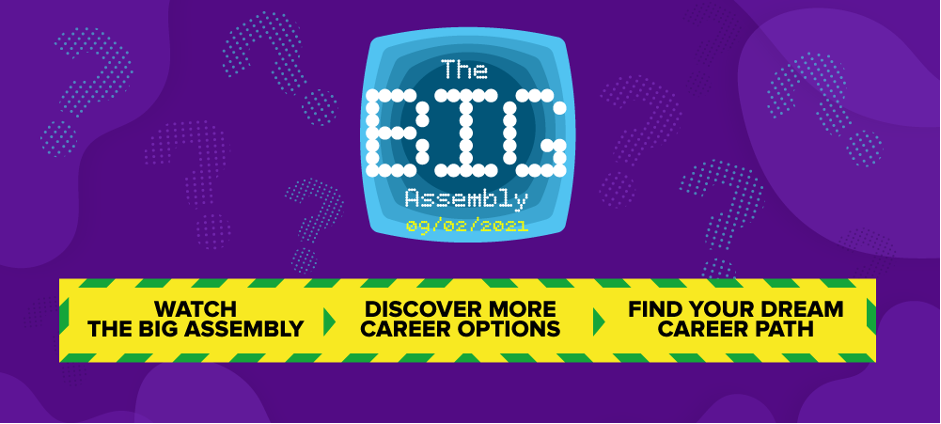 DON'T FORGET TO REGISTER FOR THE BIG ASSEMBLY!
For previous Big Assembly's, teachers and school staff have been great at sitting their classes down to watch the live broadcast together. However, this year is going to be very different.
Watching the Big Assembly is an AMAZING way for students to find out more about apprenticeships and different career options through the real life stories of apprentices and employers.
We need to get as many of our students and their families signed up as possible. Registering takes a minute and it's completely free. As most of our students are learning from home we need them to register individually so that they can watch the Big Assembly
From 11:10am on Tuesday 9th February, we'll be myth busting, shedding light on alternative career paths, and our panel will be answering questions LIVE from those watching. We don't want anyone to miss out!
WHAT IS THE BIG ASSEMBLY?
The Big Assembly is a free interactive online broadcast that allows students, teachers and parents/carers to learn about apprenticeships and career options. We'll introduce you to inspiring apprentices and employers and give you the opportunity to ask questions and get involved through our online chat facility.
___________________________________________________________________________________________________

Stamford College are offering students an excellent opportunity to book a dedicated session with their Apprenticeship Advisors. Please note there are only 2 sessions - 11th & 12th February so would recommend to book ASAP!
Minister for Apprenticeships and Skills, Gillian Keegan said:
Apprenticeships are a fantastic way to learn while you earn, opening up new and exciting career paths that can transform lives. It's been a tough year for everyone, but we want the theme for National Apprenticeship Week 2021 to be a springboard to look ahead to how apprenticeships can futureproof workforces and boost careers.

The week is a great opportunity to highlight the huge range of apprenticeships on offer – from Space Engineer to Registered Nurse. There are currently around 7,000 apprenticeship opportunities available on the Find An Apprenticeship website which will benefit individuals, businesses and local communities. I encourage everyone to get involved and help make it a success.
To support National Apprenticeship Week 2021, individuals, employers, training providers and communities are being encouraged to get involved, to celebrate apprenticeships and how they:
TRAIN apprentices, and future proof their workforce and careers though apprenticeships;
RETAIN apprentices, gaining the skills and knowledge needed by the business, and seeing apprentices thrive, whilst having impact;
ACHIEVE a real return on investment from apprentices; realising the business benefits of apprenticeships, with apprentices progressing in their chosen careers.
Peter Mucklow, Director, Apprenticeships, Education and Skills Funding Agency said:
There is no doubt that National Apprenticeship Week 2021 will be different this year in how we celebrate apprenticeship success.

We are however continuing to ask employers to encourage everyone to consider how apprenticeships can help build organisations for years to come; whilst showing the clear return on investment realised when apprentices are brought into the business. Employers are helping the nation to #BuildTheFuture through apprenticeships.

The diversity of career options and industries available now, through apprenticeships, is outstanding. We want all current apprentices from all sectors to get behind the Week and to showcase the positive impact of apprenticeships, on careers, families and communities.
To find out more about apprenticeships, visit: www.apprenticehips.gov.uk. We also have a fantastic section on apprenticeship and placement opportunities here on our Academy website. Please also have a look at the resources attached below.https://www.nationalapprenticeshipweek.co.uk/