Course Information
Year 7
Year 7 pupils will study a seven week block of French and Spanish. At Christmas they will choose which language they will continue to study.
Year 8
Year 8 pupils have chosen either French or Spanish and study this one language through Key Stage 3.
Year 9
Year 9 students have chosen to study either French or Spanish and follow a GCSE course accredited by AQA. They will study topics about themselves, their family, school, home life, free time and holidays. They will have exams in Listening, Speaking , Reading and Writing in May/June of Year 11.
Years 10
Year 10 pupils will continue to study their chosen GCSE course language as selected in Year 9.
Year 11
Students continue to follow the GCSE course accredited by AQA. The course is assessed by four exams at the end of the year; Listening, Speaking, Reading and Writing. The speaking exam is in April/May, and the other exams are in May/June.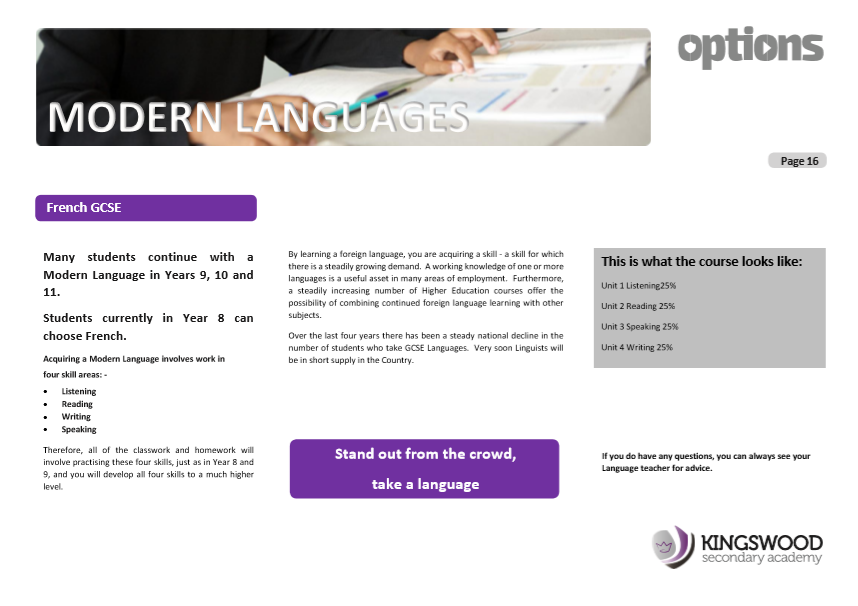 Years 12 and 13
Students follow AS and A2 courses accredited by AQA.