Careers Information and Research
**LATEST NEWS**
As of Monday 20th July 2020, Changing Education are running a Virtual Work Experience programme. Those interested in following the programme will gain and develop their skills for the workplace. For further information, please see the attached document and below information but please also look out for your personal invitation by email if you are currently in Year 9 or 10.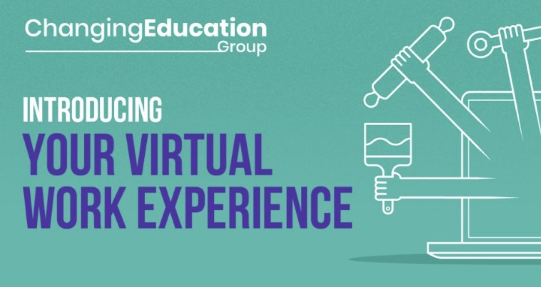 We are delighted to be supporting you with accessing the world of work, virtually during this difficult period. We will be utilising our own software platform, the Connect placement manager app and links with leading industry experts to provide you with insights into the workplace.
We have tried to keep the process as simple as possible.

Download our Connect placement manager app


Submit three areas of industry interest and create a placement


Submit your work personality questionnaire


Receive your full timetable for your designated week
You will receive an invite link to download our Connect placement manager app to your school email address on Friday 17th July. If you already have the student app installed then please disregard this step.
Please submit three areas of industry interest using the app by Friday 17th July. Once you've told us your interests, you can create a placement called 'Changing Education Virtual WEX' across the following date range: Monday 20th July - Friday 24th July.
Once you have successfully created the virtual work experience placement, you must submit your work personality questionnaire. This section is a vital part of your journey and must be completed no later than Saturday 18th July.
On Friday 17th July you will receive an email with your full timetable for your designated week.
See the attached FAQs.
________________________________________________________________________________________________

Please also see the attached latest Newsletter from Army Careers below.
_______________________________________________________________________________________________
To help our students make the best decisions they can about their choice of course, whether at GCSE, A Level or Undergraduate level, they can access information from a variety of websites.
https://nationalcareersservice.direct.gov.uk/
The National Careers Service allows students to search job profiles for over 750 jobs. Students can find out the entry requirements for each job, starting salary data, further career opportunities and training as well as the knowledge, skills and personal qualities required for each job.
The school will provide information about the local labour market so that students are aware of industries available in Corby and Northamptonshire and where there is potential for growth (new industries). Students can use this information to help make informed choices, by selecting those courses that will offer them the chance to gain the necessary skills and qualifications as they aspire to reach their chosen job.
We have designed a range of posters for students to use in investigating the opportunities available in the local area and the courses they can follow.
The WOW Show has launched careers guides for opportunities within the NHS. They aim to give an insight and a real encounter of what it means to have a career in the NHS and to make a difference to people's lives.
www.icould.com offers students more ideas about future jobs within their career path. Students can take a quiz (Buzz Quiz – this takes about 5 minutes to work through) to find jobs that might suit their personality and choices. They can also watch videos of people already working in these jobs to acquire more knowledge and understanding about what opportunities are available.
www.careersbox.co.uk is a free online resource bank of film, news and information on a range of careers. The film clips show real people doing real jobs, providing a clear insight into careers in all sectors.
www.plotr.co.uk is another website designed to allow students to consider their own personality, strengths and weaknesses and then access a wealth of information on a wide range of job choices.
http://wheretheworkis.org/ offers an interactive tool enables users to explore demand for particular mid-skill roles and the potential salary benefits and likely levels of competition for these positions. The findings can be shown at UK-wide, national and regional levels, and within selected local enterprise partnership areas.
http://www.lmiforall.org.uk/widget/ This website allows students to compare different jobs side-by-side. They can see the hours worked, expected pay and the skills required, providing them with realistic information on which to base their subject / job choices.
Students should take full advantage of all the information available to them, explore each career pathway and investigate the jobs they could potentially have in the future. We will encourage each student to aspire to a high level of education, training and career.