Quiz Night for Penyem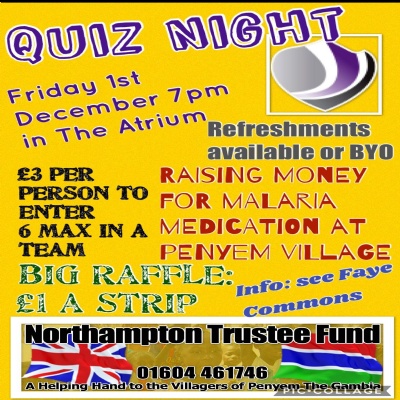 Join us on Friday 1st December at 7.00pm for an exciting Quiz Night for this great cause.
We are lucky enough to be going on a trip to The Gambia in February 2018. During our trip we are hoping to deliver malaria medication to Penyem Village. The village is sponsored by The Northampton Trustee Fund, a family run charity which you can visit at:
http://northamptontrusteefund.co.uk/ (charity number: 1115191).
In recent years our Academy has provided a Land Rover, ambulance, classroom equipment, and medical equipment. In addition, the charity pays a doctor and teachers to work in the village. This provides many people with education and medical care. Malaria nets don't always work, and when people catch malaria it can be treated with medication… but the people of the village can't afford it.
That's where you come in. We are holding a grand raffle on Friday 1 December 2017 and we are looking for raffle prize donations- anything big or small is appreciated. All money raised will be used to buy malaria prevention and medication for Penyem Village in The Gambia.
The raffle prizes can be collected, or sent to :
Faye Commons (Head of Geography)
Kingswood Secondary Academy
Gainsborough Road
Corby NN18 9NS
We thank you very much in advance for your support.