Success for Kingswood 6th Formers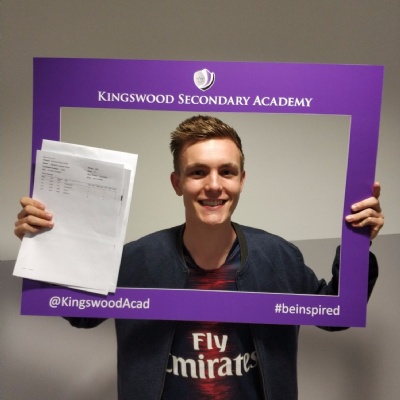 We are celebrating a super set of results for the 6th Form students at Kingswood Secondary Academy!
These results have been achieved through hard work and dedication, enabling our students to progress on to university and the world of work. Indeed, all students wanting to go on to university have secured the grades necessary to do so which is a tremendous outcome; this includes 2 students progressing onto medicine/veterinary medicine degrees, a first for the Academy. Holistically, the Academy's students have been awarded more A* and Distinction* grades than ever before, the highest possible grades that can be achieved. Overall there has been another improvement in the A Level grades achieved compared to the year before. Notable student performances include:
• Bethany Price going to Nottingham University to study English after achieving A*, A, B grades
• Ben Porter going to Nottingham University to study Veterinary Medicine after achieving A*, A, A, B grades
• Stephanie Greenland going to Birmingham City University to study Early Childhood and Psychology after achieving Distinction*, Distinction*, C grades
• Jody Makier going to Nottingham Trent University to study Sociology after achieving A*, Distinction, Distinction grades
• Lauren O'Connor going to Sheffield Hallam University to study Physical Education and School Sport after achieving A, C, C grades
Perhaps more important than the excellent grades these students achieved is that they all performed much better than predicted from the national average, what we call 'value added'. Their dedication and application enabled them to 'over-achieve' and is a wonderful example to our academy community of what is achievable through a sense of aspiration and determination. Too often students from our area of the country are seen and labelled as underperforming and poorly educated, but our Kingswood students are now moving on the next stage of their lives enabled to pursue their desired careers. How special to be able to say that the doctors, vets and teachers of tomorrow were educated at the Kingswood Secondary Academy in Corby. Indeed, several of the students initially moved to other local colleges and schools after their GCSEs but returned to Kingswood after realising the quality of education and opportunity we offer, a return that has been wonderfully successful.
Congratulations to the students and their teachers, and not forgetting the parents, for the hard-work and support that has enabled this set of results. We are so very proud of you all.
Andy Burton
Principal