Duke of Edinburgh's Award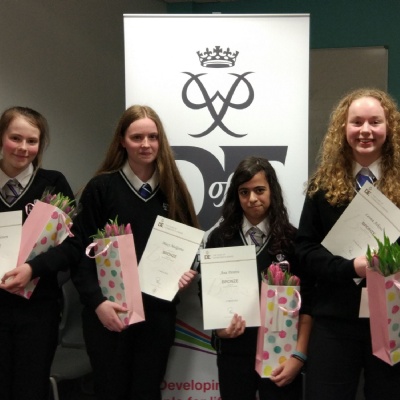 Bronze Award Presentation 2016 - 2017
As you may be aware, we introduced the Duke of Edinburgh's Award last year to our Year 9 and 10 students. On Tuesday 13 March 2018 presentations were made to the five girls who completed the Bronze Award: Leona, Ana and Bethany who are now in Year 10, and Emily and Macy who are now in Year 11. Emily was unable to attend the evening as she was at the South Bank, London, receiving a prestigious award from the British Film Institute for her work on a local project.
As part of the award, participants must complete three sections; Volunteering, Physical and Skill. One of these sections must be completed for one hour each week over a six month period, and the other two sections must be completed for one hour each week over a three month timescale. After completion of one of the sections, the students take part in an overnight expedition, camping out overnight, following a map over low level terrain and creating a short presentation on research carried out.
Guests were invited to attend the event which was held in the Academy. Members of the Parent Forum and Academy Advisory Committee were included in the guest list. Mr Lawson, Deputy Principal, introduced the girls and gave a short presentation. The girls then spoke about their Duke of Edinburgh's Award experience before Mr Burton, Principal, presented them with their certificates and bronze badges.
We would like to congratulate all of the girls for their brilliant achievement and for their commitment to the Duke of Edinburgh's Award. Well done girls, you are a credit to not only yourselves, but to your parents and the Academy!
We are delighted that Leona and Bethany have decided to participate in the Silver Award this year, together with 28 students who have enrolled onto the Bronze Award. Watch this space!