Our New Uniform

The move to the new school seems to us like the perfect opportunity to make a few changes to the way we do certain things – a chance for a 'fresh start'. One of those things is our uniform. As you will know, we have been working with a group of students to look at a new uniform for when we move into the new school. That group has helped us to reach certain conclusions – as did the series of Parent Forum meetings a couple of weeks ago.
As of September we will be 'tightening up' on various aspects of the uniform and we are asking for parents' support in doing so. To make the change possible, we are purchasing the uniform for parents – for the first year – as we appreciate that making a change like this might prove expensive.
The photographs below show the uniform we have decided on after much consultation.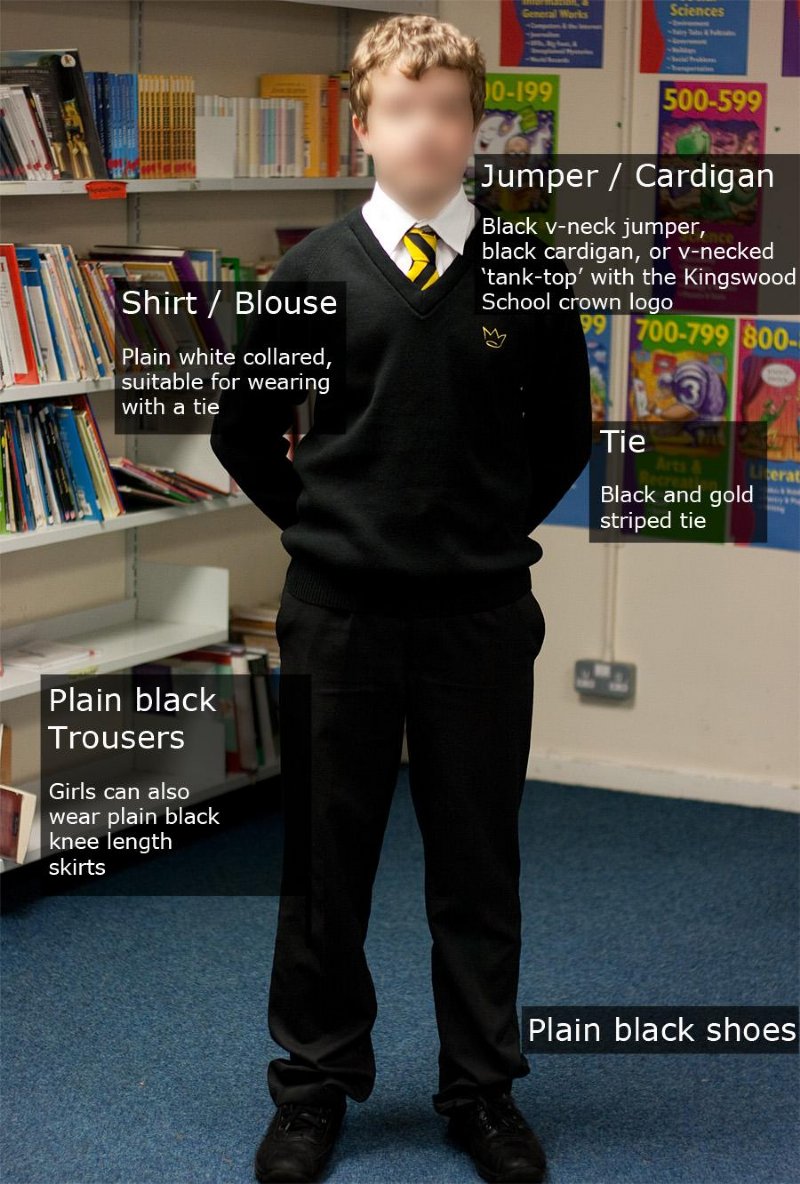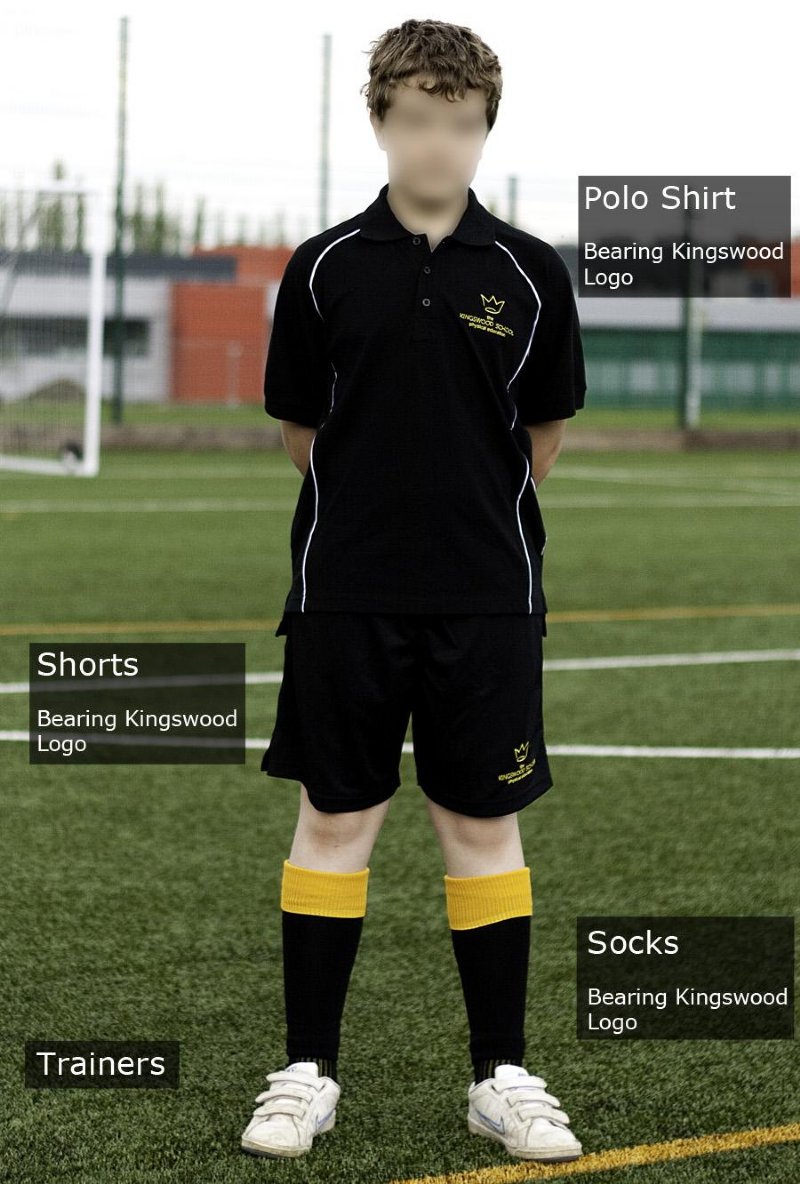 The rules that we intend to stick to from September are shown below:
Footwear: Plain black shoes or trainers, with black laces – no logos, ticks or colours. Boots and inappropriate or dangerously high heels are not acceptable.
Trousers: Plain black – no jeans, combat trousers or leggings. Plain black belts may be worn – through trouser loops, but not around the midriff.
Skirts: Plain black and of a simple design to the knee. Very short skirts are not acceptable.
Jumper/Cardigan: Black v-neck jumper, black cardigan, or v-necked 'tank-top' with the Kingswood School crown logo. No other tops may be worn.
Shirt/Blouse: Plain white collared shirt/blouse – short or long sleeved, suitable for wearing with a tie; plain white T-shirts/vests (without pictures or writing) may be worn underneath a shirt/blouse. Other colours are not permitted. Shirts are to be tucked in at all times.
Tie: Black and gold striped tie – done up and worn with the top button of the shirt fastened.
Outdoor Wear: Although it is impractical to stipulate a particular style of coat or jacket, I believe we should state for parents that it is our preference that students should wear a dark coat or jacket – black, dark blue, or dark grey. Other outdoor wear for example scarves, gloves and hats may be worn outside at break times and to and from school but must not be worn in lessons, in-between lessons or inside the school generally.
Bags: Bags must be appropriate for school and carrying books, text books, PE kit etc. Small bags and handbags are not to be used in place of a proper school bag.
Jewellery and make-up:
One pair of ear studs
A watch or single bracelet - discreet enough to be worn under a cuff
One ring only
One discreet necklace to be worn inside shirt/blouse. Big beads are not allowed.
No other jewellery or facial piercings of any kind are allowed
Make-up is not permitted in Years 7 and 8. An appropriate discreet amount of make-up is allowed in Years 9-11 but it must not be heavy or noticeable.
Hairstyles: Hairstyles which are judged to be extreme are not permitted.
PE Uniform: All students should bring to school and wear the PE uniform stipulated by the PE Department: shorts, polo shirt, socks and outdoor top – all bearing the Kingswood School logo. In addition students may wear the optional Kingswood jogging bottoms and rain jacket.
The PE kit is as shown in the photograph above. The girls' polo shirt is more fitted and in addition to the kit shown the girls will have a quarter-zip fleece for outdoor wear and the boys will have a reversible rugby top all of which bear the new Kingswood School crown logo.
Personal Technology: Mobile phones and mp3 players may be used at break times only and must not be used inappropriately. Such technology must not be used or seen during lessons or between lessons.
During last week, all Years 7-10 students were shown the uniform in assembly and this week our new suppliers – Sportswear International – have been in measuring the students so that we can have the uniform prepared for every student prior to September.
What every student will receive in their 'package' is as follows:
Jumper or cardigan bearing the Kingswood School crown logo
Tie – black & gold stripes
PE Kit consisting of;

Polo shirt
Outdoor top rugby shirt (boys) / fleece (girls)
Shorts
Socks
In addition, there are optional items which parents may wish to buy – artist's impressions of which are shown below: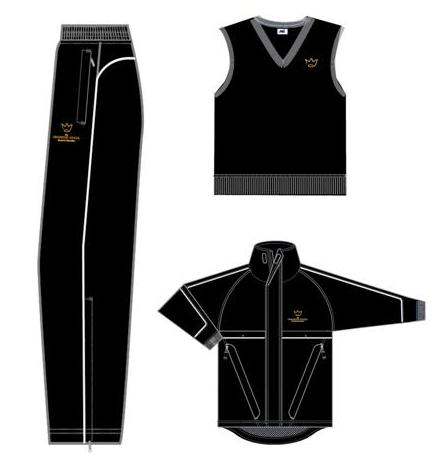 Tank Top
Jogging Bottoms
Rain Jacket
Parents will, of course, be able to order additional items to those which we will supply for you.
Our aim is to have all of our students looking smart and business-like ready for a new start in the new school.
We hope you will join with us in ensuring that the students comply with these new rules.
Arrangements for parental collection of our new uniform:
Having taken the decision to provide the first set of uniform free of charge we have already had students currently in Years 7-10 measured and appropriate orders placed. Students currently in Year 6, who will be joining us in September, will be measured on their Induction Day on July 9th.
Parents can come in to our new building 9am - 3pm, Thursday 26th, Friday 27th and Tuesday 31st August to collect their child's uniform. Please bring proof of address with you when you come.
How do I order extra items?
In the first instance, while we ensure everyone has the basic uniform package, we would ask parents to wait a week or two into September before ordering additional items.
If you wish to purchase additional items (including tank-tops, PE jogging bottoms and PE rain jacket) then please click here for our price list and order form. Please take your order form to our Main Reception where we will either be able to provide you with the chosen items immediately from the limited stock we hold, or we will order the items in for you.