Work Experience Opportunities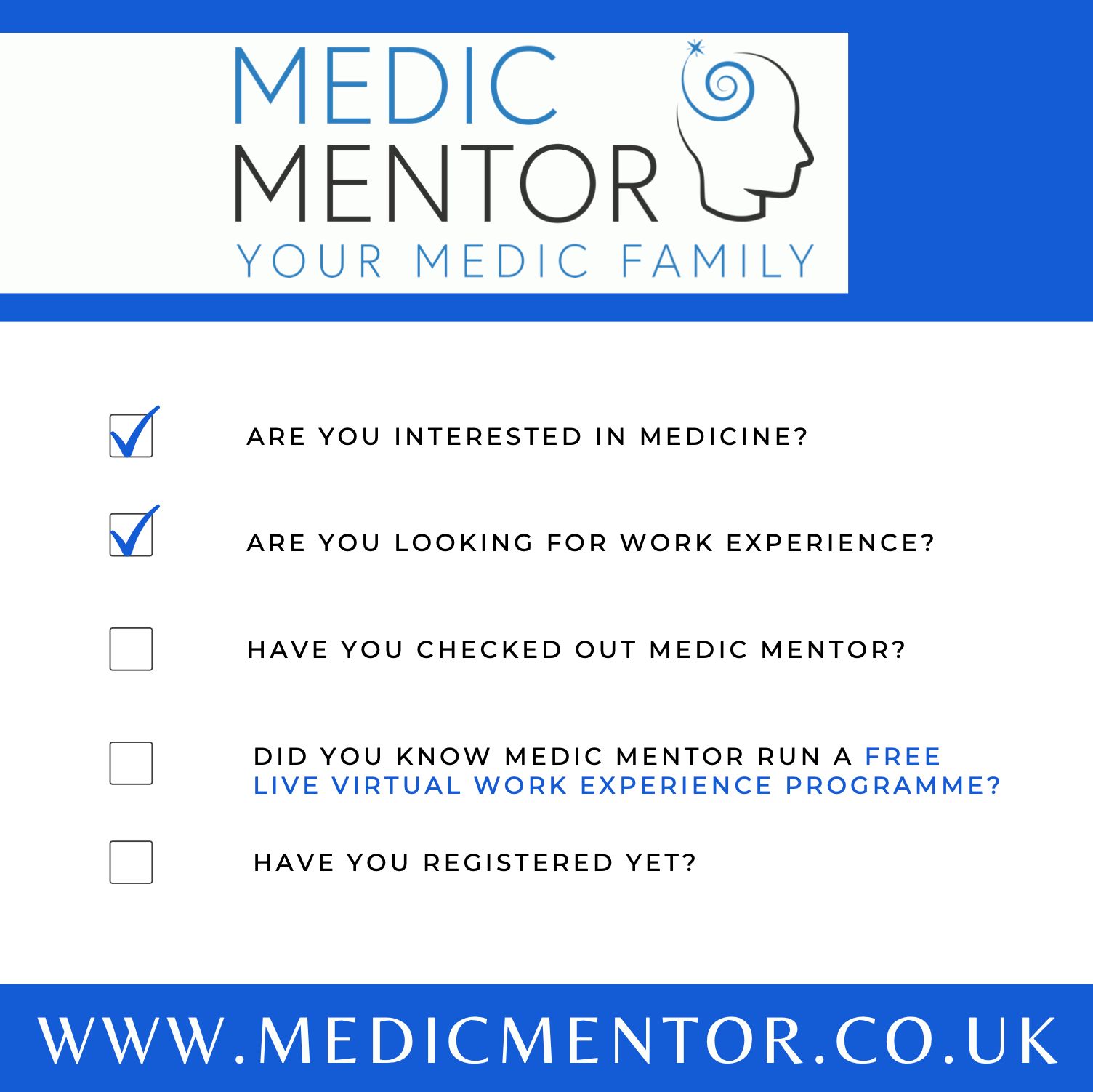 Medic Mentor offer Virtual NHS work experience for allied health careers such as:

Nursing
Midwifery
Paramedicine
Physiotherapy
Occupational Therapy
Dietetics
Radiography
Prosthetics and orthotics
Speech and language therapy
Osteopathy
Pharmacy
Podiatry too

The Work experience date is June 6th.

This programme is available to support all of your aspiring healthcare students as an alternative to in-person NHS work experience during the pandemic.

During the work experience day, students will follow 2 patients from their initial presentation to recovery. Students will observe the healthcare professionals as they interact with the patients and also each other. Students will have an opportunity to ask questions and gain knowledge through teaching. This will help students to make an informed career decision as well as learn about how healthcare professionals work together as part of a multidisciplinary team. Each work experience day is completely different and students will be able to build on their knowledge of NHS careers as they see different patient cases and their healthcare professionals work in a variety of settings, such as hospital and community.

You can learn more and your students can register for the programme here.

Students will receive certificates as evidence of having participated in the work experience programme. Students can register individually through the website link above. Places are just £10 a day to cover administrative costs and run the tech on the day. We look forward to providing aspiring healthcare students with an amazing work experience day!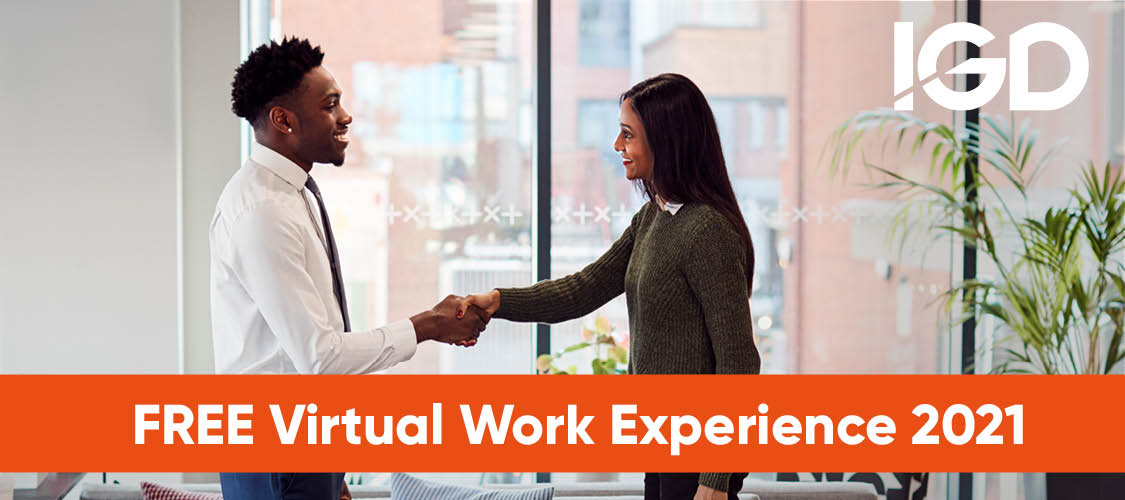 Monday 24th - Friday 28th May 2021
Years 10 - 13
Register your interest here.
Interact with industry professionals from employers like Coca-Cola, Cadburys and Tesco to hear about marketing, science, engineering, IT
Help your students gain experience and insights into a growing industry
Sessions are fast paced and interactive
Students receive personal feedback from industry professionals
Students get a Certificate to add to CV to stand out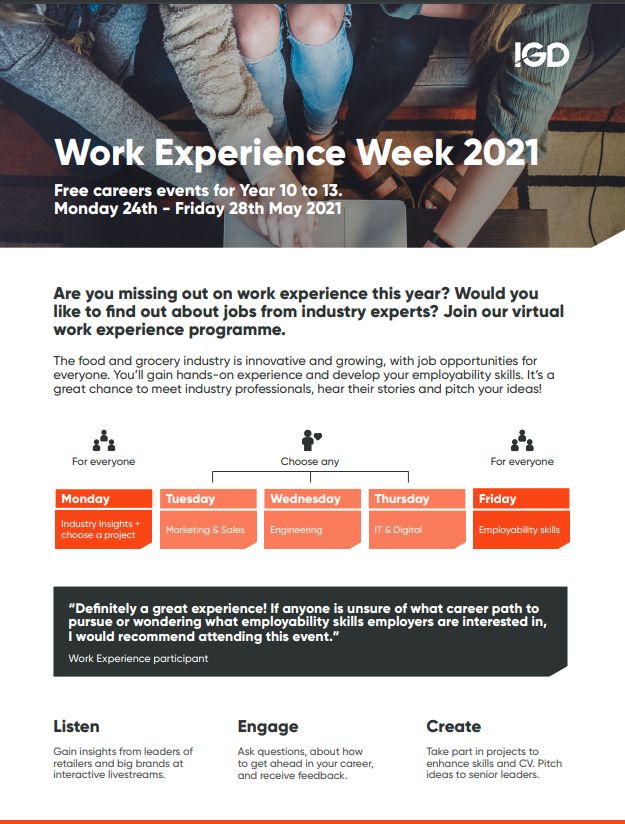 Ever thought about joining the Army? Hear from serving soldiers about what it's like to learn skills, take on initiative tests, watch demonstrations and take part in military lessons. Explore the latest Army kit and equipment. Ask questions about travelling the world, having everyday adventures, and pushing yourself to do things you never thought possible.
Join our virtual work experience event for your chance to experience first-hand what it's like to be in the Army. We'll demonstrate Army fitness standards, talk to you about the science behind rations, show you how to pack a Bergen and share with you many other Military lessons during the session! You'll also have the chance to speak to serving soldiers about Army life and the many roles available. Available for students from Yr 10 upwards.
Contact us directly for details about the event and to secure your place; michael.clarke118@mod.gov.uk
Springpod are offering Virtual Work Experience Programmes and Insight Days that are free for students and can be completed at times that suit them - receiving a certificate straight from the employer at the end for use in CVs, Personal Statements and future interviews. They all feature live interaction that allow students to ask any burning questions directly to the experts themselves and work/ tasks will also be set and marked upon completion. These are vital to help gain career knowledge and experience.

Take a look at the list of upcoming opportunities for 2021 (many of which will be closing soon!) with top employers such as Vodafone, Nestle, The NHS, Chartered Institute of Marketing and BT, by clicking here.

Purpose and values are important to PwC – and likely to you and your students too. PwC's values define how they do things, and their purpose is why they exist – to build trust in society and solve important problems for their clients, their people, and the communities in which they operate.
Now more than ever PwC's business is evolving. They offer a variety of programmes for school and college leaver students to start shaping their careers.
For those interested in work experience
Applications for our Virtual Insight Week will open in the New Year. Sign up to our Talent Network to be the first to hear more.
Explore. Inspire. Reimagine.
________________________________________________________________________________________________________
Summer Career Experiences in London
The Ultimate Career Experience | In-Person | Ages 12-18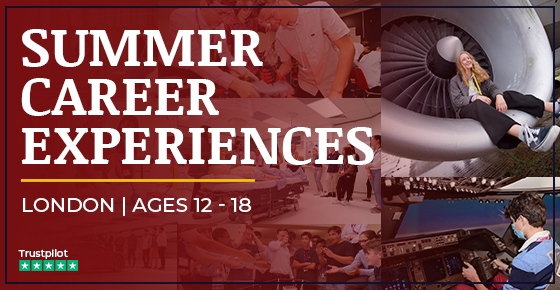 As Covid restrictions wind down, we are busy preparing to give students some truly unique in-person summer experiences in 12 of the world's most exciting careers: try hacking a Tesla with cyber experts; attend a sports psychology session at Chelsea FC; or even trade the markets with bankers at the top of an iconic London skyscraper.
"The only source of knowledge is experience," Albert Einstein

The best learning experiences happen in-person. Our Summer Internships in London offer students aged 12-18 a dynamic, 360-degree experience of 8 STEM & Medicine-related industries.

Hack into a Tesla car. Learn from NASA scientists. Discover sports psychology at Chelsea F.C. Treat patients in a London teaching hospital. And much more.

Our in-person programmes are over 70% full. Book now!
Big names; exciting, interactive experiences; exclusive insider access. Our work experience programmes are unparalleled. Highlights include:
Places are highly limited. Register now.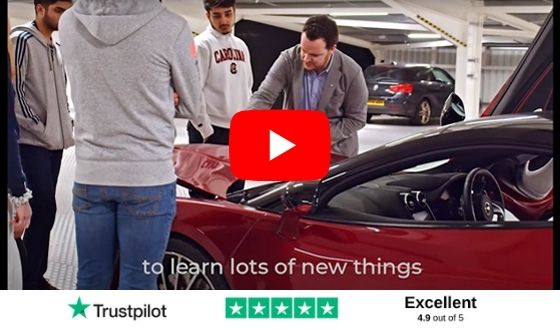 ___________________________________________________________________________________________________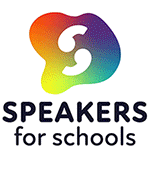 Speakers for Schools fully understand that schools are going through a really difficult time right now with the current restrictions. Allowing students the chance to participate in remote virtual work experience placements is a great way in which to engage our young people to ensure they don't miss out on getting an insight into the world of work and career pathways.
We've been working to create some incredible opportunities with brands such as Spotify and the NHS and have some unique placement opportunities coming up that are filling up fast. Some of these are listed below or log in to see the complete range of placements we have to offer.
Apply as soon as possible to give yourself the best chance of securing high quality work experience at a top employer and a boost to your future career aspirations. Employers may make selections before the advertised deadlines.
British Army - combining office skills and a sense of adventure
British Army - careers in cyber
Dates: 4 & 22 June 2021
Eligibility: 15 – 19 year old interested in an insight into how army careers are evolving.
Application Deadline: 4 & 26 May 2021
Celebrating women in engineering with Thames Water!
Predict 21 - Thames Water`s technology revolution
Date: 23 & 24 June 2021(10am – 1pm).
Eligibility: 14 – 19 year olds interested in exploring the huge variety of careers available within the company.
Application Deadline: 23 & 24 May 2021
For a full list of placements - sign in here to search and apply.