Apprenticeships & Placements
For more information regarding National Apprenticeship Week 2022 please click here or for more information on the National Apprenticeship Week 2021 please click here.
For many of our students apprenticeships are an excellent approach to gain a greater level of industry-specific skills, experience and qualifications. Apprentices earn a wage as they learn and develop these skills. Take a look at our Virtual Events page for apprenticeship sessions.
Apprentices under the age of 19 receive the national minimum apprentice rate (currently £3.50). This is the same rate for students over the age of 19 in the first year of their apprenticeship. There are different levels of apprenticeship.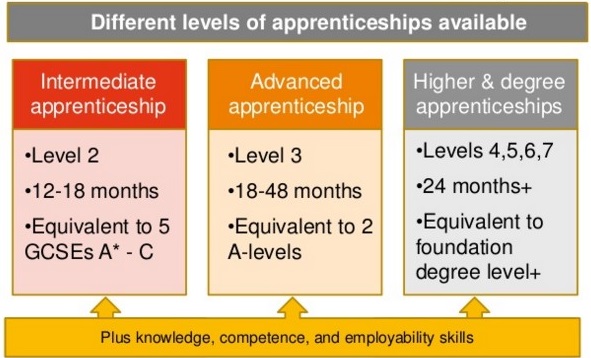 There are a number of ways to get an Apprenticeship. Apprentices will need qualifications as well as a range of personal and interpersonal skills. Students need to be prepared to work on their interview skills; have an up to date CV and apply for a range of apprenticeships because there are many students who want to gain an apprenticeship and this is set to increase.
https://www.gov.uk/apply-apprenticeship
This website allows students to receive updates and search current vacancies. Students can also visit www.notgoingtouni.co.uk to access a range of detailed information and look to find data about many apprenticeships. They are extremely competitive so it is essential that students have a good knowledge and understanding of their own skills, interests, hobbies and experience in order to present themselves positively and in a way that allows them to stand out from the crowd.
Please also take a look at the SEMLEP website for useful information and resources regarding apprenticeship opportunities in our area.

Check out the latest newsletter from The Apprenticeship Guide attached below.
Visit their website here for more information.