Apprenticeships
For many of our students apprenticeships are an excellent approach to gain a greater level of industry-specific skills, experience and qualifications. Apprentices earn a wage as they learn and develop these skills.
Apprentices under the age of 19 receive the national minimum apprentice rate (currently £3.50). This is the same rate for students over the age of 19 in the first year of their apprenticeship. There are different levels of apprenticeship.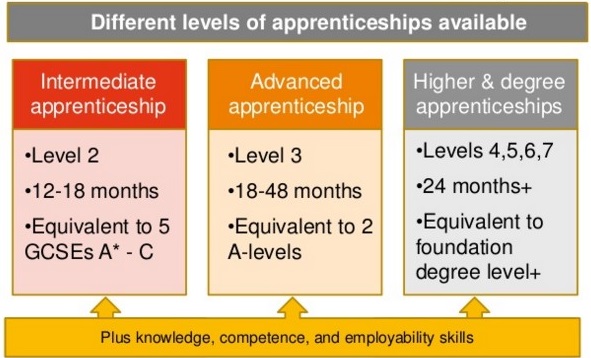 There are a number of ways to get an Apprenticeship. Apprentices will need qualifications as well as a range of personal and interpersonal skills. Students need to be prepared to work on their interview skills; have an up to date CV and apply for a range of apprenticeships because there are many students who want to gain an apprenticeship and this is set to increase.
https://www.gov.uk/apply-apprenticeship
This website allows students to receive updates and search current vacancies. Students can also visit www.notgoingtouni.co.uk to access a range of detailed information and look to find data about many apprenticeships. They are extremely competitive so it is essential that students have a good knowledge and understanding of their own skills, interests, hobbies and experience in order to present themselves positively and in a way that allows them to stand out from the crowd.