Kingswood Live Lounge 2014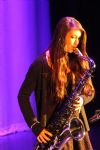 It all began in November 2013 when the BTEC Music group were introduced to their final unit of work 'Live Lounge'. Most of them had heard of it before, and some had even auditioned or taken part in previous years. Now it was their turn.
Auditions were held in early February, and the standard of entries was so high that it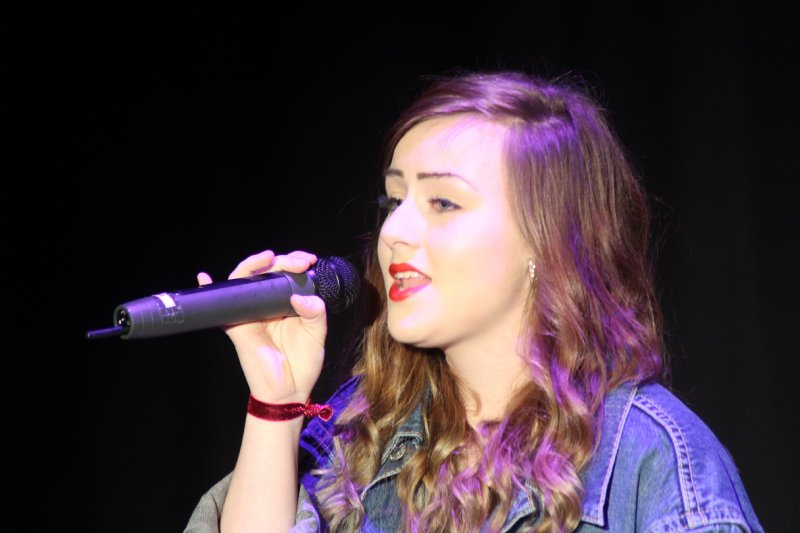 took several lessons for the group to come to a decision about who had made the final cut. They had narrowed it down to 20 acts.
What followed was a mix of grumpiness, laughter and metaphorical hair pulling as plans had to be changed and re-arranged.
But all too soon, March 27th had arrived!
It was a really busy day with a full technical rehearsal watched by an enthusiastic and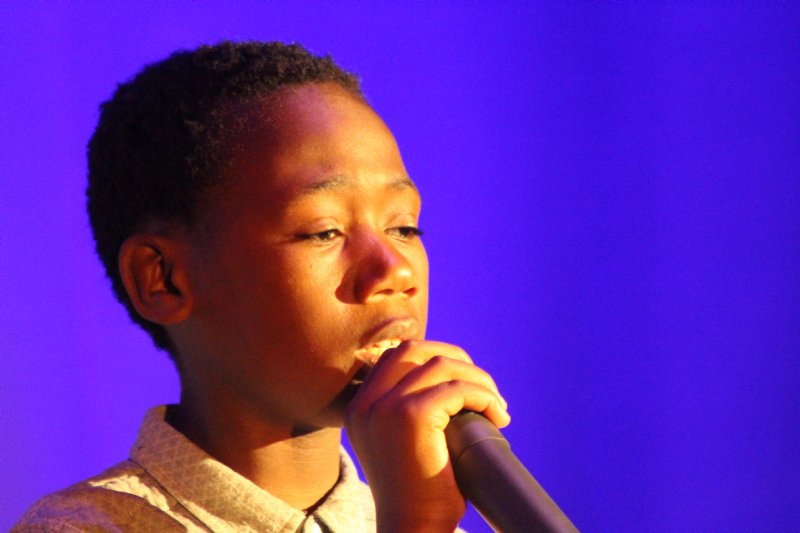 appreciative KS3 audience who were able to provide some feedback for the group. A lot of them left EP8 singing the final number on their way to lunch. It seemed that a good time had been had by all.
Unbeknownst to Year 11, there was much left to do!
6.15pm – the arrival of performers - except one who didn't turn up until 6.57 - and Alicia could finally complete the register and allow the show to begin.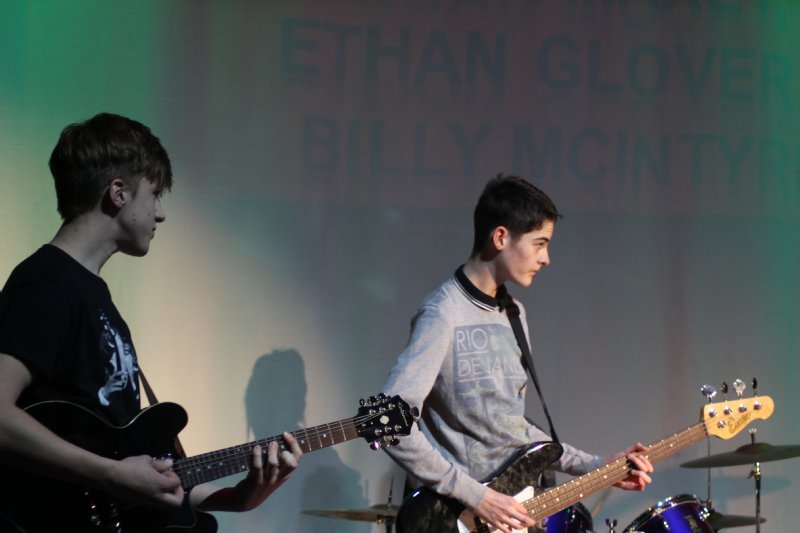 The hosts for the evening were introduced and it was on with the first act, Rebecca Vince. What a way to begin. A beautiful rendition of 'Blessings' rang out through the studio followed by the upbeat 'Rolling in the deep' sung by Dulcie-Ann Willie. In the middle of the first half there was an impromptu rap by the hosts Leia Cameron and Emma Donnelly, which brought a smile to many faces.
Rounding off the first half was the band with no name (Jack, Leia, Ethan, Billy) playing Johnny B Goode to take us into the interval.
In a change to the earlier show, the second half was hosted by the new comedy duo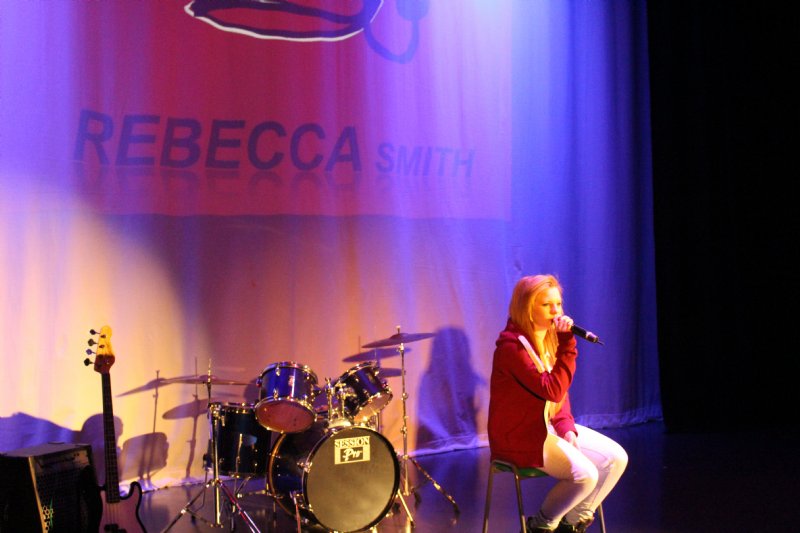 Thomas Dolan and Lara Cunningham. In turn they introduced the fantastic performances, told jokes (well, that's debatable) and got the audience singing the wrong theme tune to a song of the same name. It also included the only instrumental song performed by Aimee Coy on Tenor Saxophone.
To end the show after Jose Ojeda Jirout had finished his performance of 'Let it go'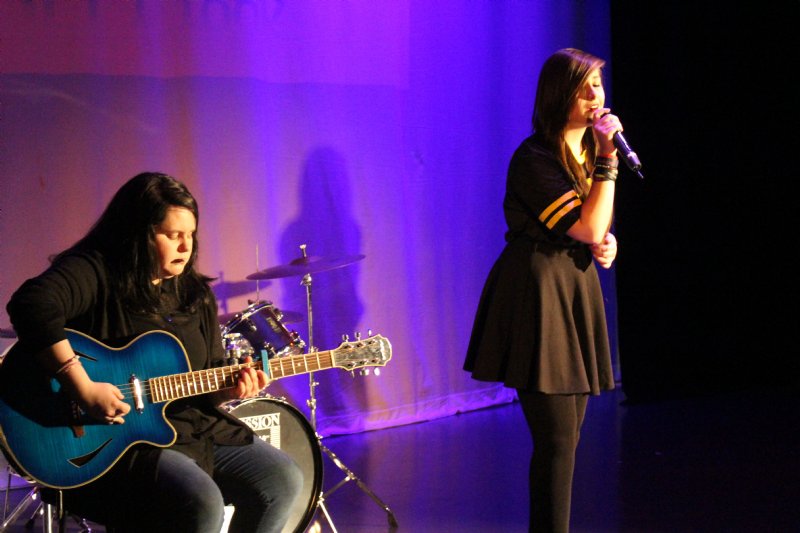 from the film Frozen, the students brought all of the performers back to the stage and explained that proceeds of the evening would go to Alzheimer's society, a charity close to some of our BTEC Music group.
And then…EP8 was empty (except for all the equipment which needed returning downstairs – ahhh the life of a concert organiser)
Full list of performers and songs below:
First Half
Rebecca Vince – Blessings
Dulcie-Ann Willey – Rolling in the deep
Courtney Douglas – Rather Be
Alice Jones – Royals
Romy Smales – Human
Rebecca Smith – At Last
Silvana Cupi – This Love
Denzel Mutonono – Pompeii
Katie Donelly & Luke Roberts – No Idea (an original song)
Emily Granger – A Thousand Years
Olivia Bonner – Titanium
Leia Cameron, Jack Maxey, Ethan Glover & Billy McIntyre – Johnny B Goode
Second Half
Morgan Berry – Hometown Glory
Courtney Murdoch – Do what you want
Jess Nicholson - Stars
Aimee Coy – Feeling Good
Jaylee Welsh – Read All About It
Kaylee Jardine – The A-Team
Jose Ojeda Jirout – Let it go